A Basic Way the Holy Spirit Works in the Church Today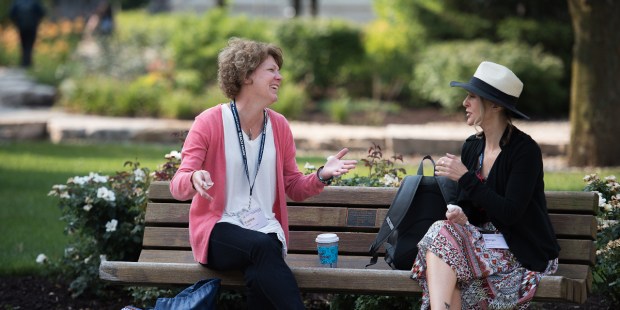 Apostolic lay people make a huge difference, and growing ministry prepares lay people to be more effective disciples.
The initiative and ingenuity of holy, mission-minded lay people is amazing to behold.
Apostolic lay people are able to reach people in places and situations far beyond the four walls of a church. They can change hearts with simple conversations.
Their Christian witness makes such a difference in individual lives and in the whole Church.
a ministry, The evangelical catholicprepares more lay people to be able to do this, to be more effective disciples of Jesus.
The Evangelical Catholic (TEC) is a nonprofit organization that prepares lay people to be zealous, enthusiastic, and equipped leaders to go out and evangelize their communities. It has hundreds of existing small groups and over 1000 new individuals currently in formation.
"I have seen more and more people deepen their ability to listen during prayer" thanks to TEC, a lay leader shared with Aleteia. "I've seen people be more present to those around them."
TEC began when founder Tim Kruse was asked to start a small group program in a parish in 1997. He and his wife, Sandy, began meeting weekly with a small group of parishioners.
They prayed together, discussed the scriptures and shared their aspirations to grow in intimacy with Jesus. They reflected on the Lord's call to make disciples of all nations.
Tim and Sandy also met one-on-one with the men and women of the group to help them establish mature discipleship. Eventually, group members felt called to start their own small groups to reach more people in the parish.
As more and more people became disciples and led small groups, a movement was started. The evangelical Catholic was trained to mentor and provide resources to Catholic ministries to lead movements of apostolic activity. And the results are confirmed by testimonies from more than 20 years of ministry.
A TEC lay leader said she was proof that anyone can answer the call to become a follower of Jesus. "I really believe in the saying, 'God doesn't call the equipped, He equips the called,'" she said. "I trusted Jesus and He provided in ways I couldn't even imagine."
We recently had the chance to meet Jason Simon, President of TEC. Here is our conversation.
Why is the evangelical Catholic method so effective?
Prior to ordination, priests receive years of training and training for their position in the Church. Lay Catholics rarely receive focused formation and training for their position in the Church.
Parishes should be the center of this formation and training. But they often lack the model and the resources to train and train lay people in this way. The prevailing model of classroom catechesis does not have a profound impact.
The evangelical Catholic coaches local ministry leaders to invite and guide parishioners through deeply formative experiences and practical training so they can be apostolically fruitful in their daily lives. The training and training process takes three months.
Through training, Catholics are thrilled to have an intimate relationship with Jesus through prayer and the sacraments. Through the training, they experience great joy in knowing how to help people in their circles of influence become disciples of Jesus.
Our method of formation and training is effective because it is above all bathed in prayer. It is not "plug and play". Our consultants spend weeks praying with local ministry leaders about what the Holy Spirit wants to do in their Catholic community.
We explain to them how to invite people into the three-month training group. We train them on how to lead the group and how to meet individually with each person during the three months.
The Holy Spirit wants to raise up more apostolic workers for the harvest. We train ministry leaders to create the best environment for God to uplift the laity as workers of the Great Commission.
Why should pastors/lay leaders bring The Evangelical Catholic to their parish/diocese?
Pastors and lay leaders know that the fields are ready to be harvested around the world. They see people in the surrounding community who are not followers of Jesus, but who are also not opposed to the faith. They know that lay apostolics are the best way to go beyond parish walls.
Evangelical Catholics coach and provide resources to Catholic ministries to fulfill the Great Commission in their community. TEC consultants will pray with them, give them proven pathways to fruitfulness, make sure they have all the tools they need, and guide them around the pitfalls that will slow down this apostolic work.
Last year alone, we partnered with almost 200 departments. We can help any Catholic ministry begin to bear apostolic fruit by the grace of God.
What is the most important thing to know about The Evangelical Catholic?
Jesus always gives us the grace to do his will. So when he tells the Church to go and make disciples of all nations, there is abundant grace to do his will.
No matter the size, financial constraints or challenges, the Holy Spirit has a way of grace to help every Catholic fulfill the Great Commission. The Evangelical Catholic exists to help every Catholic find their way on this exciting path of disciple-making fruitfulness.
Each ministry leader on our team has extensive experience engaging the Great Commission in our professional and personal lives. We are passionate about accompanying other leaders in the joy of this mission.