Evangelical role in William Ruto's journey to the presidency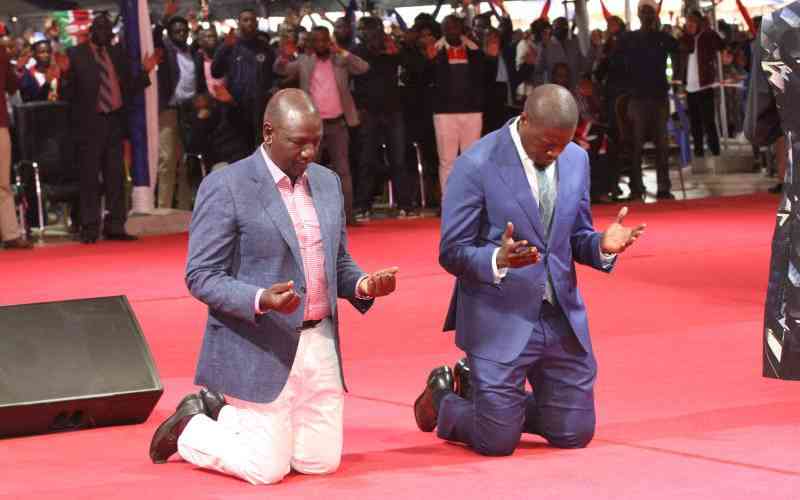 In his first tweet as President, William Ruto quoted from Psalms: "This is the day the Lord has made; let us rejoice and be glad. Religion was a key element of Ruto's campaign.
The evangelical leanings of the President, First Lady Rachel Ruto and the Vice President and his wife were on full display during the swearing-in ceremony at Kasarani Stadium.
A sermon by Bishop Mark Kariuki of Deliverance Church International was included in the handover protocols, as was a prayer by Teresiah Wairimu of Faith Evangelical Ministries.
The First Lady spent her first day in the office meeting guests including Prophet Victor Kusi Boateng of Power Chapel Worldwide Ghana, Dr Ian Ndlovu and his wife Evangelist Angel Ndlovu, as well as band members from the Zabron Choir who paid him a courtesy call at State House, Nairobi.
The church has been as much the cornerstone of Ruto's run for the State House as it has been the "hustle and bustle" around which the United Democratic Alliance Party has built its campaign.
religious attire
It was a strategy Ruto, an evangelical Christian, embraced early on.
Long before rallying the "scammers" to his cause, Ruto rallied the church with donations for the construction of larger churches, the purchase of buses or cars for the clergy.
Almost every Sunday since 2017, Ruto has been in one church or another showing worshipers that his beliefs are compatible with theirs.
He knelt in supplication and was brought to tears by the Word. Ruto wore religious clothes from dark sects and even became the butt of jokes online. His name was Jesus Substitute.
Still, the number of religious conservatives, especially among evangelical churches, who supported Ruto was anecdotal.
"In Ruto the chicken seller who wanted to become president, we saw each other. We saw that the Mabati churches in which we ministered could be something greater, our followers saw that faith in God indeed brings prosperity," said Bishop Thomas Wahome of Helicopter of Christ Ministries in Nairobi.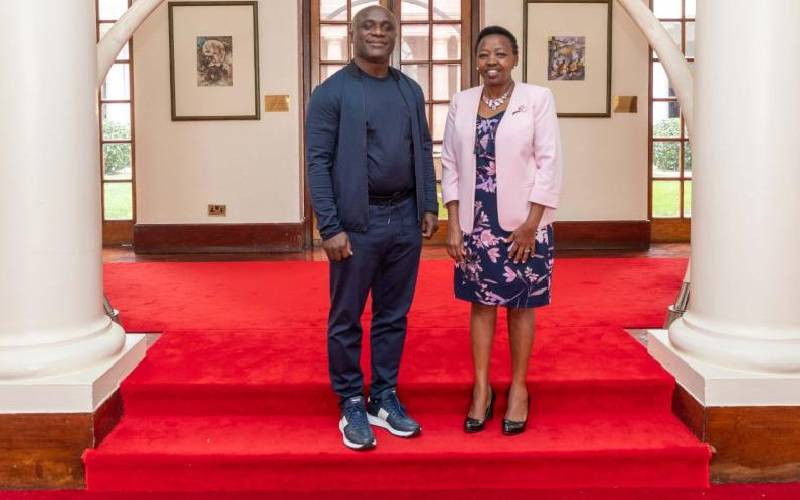 Wahome was not one of the main ministers who supported Ruto. He was not called to serve at Ruto's church at his Karen residence, and Ruto did not worship at his church.
But Wahome says he felt connected to Ruto – that Ruto was available to him and his colleagues.
Bishop Kariuki dismissed any suggestion that the administration had taken on an evangelical bent or had become too religious.
Mobilize the faithful
He said Ruto worshiped God as he knew best.
"The mouth speaks of the abundance of the heart. He does what he knows how to do. It's no exaggeration," he said.
Bishop Kariuki added that attacks on Ruto for making offerings to churches and comments against the church were seen as an affront and could have served to mobilize the faithful.
"It was not seen as an attack on him but on the evangelical churches, so they made their decision a long time ago. Some people have also chosen to speak out against the church and if the church is under attack it is not just evangelicals," he said.
"They felt threatened and sought refuge in Ruto."
But even as mainstream churches look forward to the good times, atheists in Kenya are being shaken. In a statement, they blamed Ruto for taking sides.
"We hope that President William Ruto will promote secularism and freedom of religion as specified in Articles 8 and 32 of our Constitution. Atheists should never face discrimination. We will vehemently oppose any attempt to privilege religious organizations and beliefs in Kenya," said Harrison Mumia, president of Atheists in Kenya.
"Believers and atheists have important roles to play in building a democratic, pluralistic and inclusive Kenyan society. The State House, which is the official residence of the President, should only be used for state functions, not religious functions. All religious functions of the First Family are to be conducted in their private residence."
The Christian vote is one that Ruto seriously campaigned for. An evangelical himself, Ruto has used the church to reach voters on a level that no other presidential candidate has.
It helped his case that he was a preacher when he was younger and that the vice president's wife, Dorcas Rigathi, is a real pastor.
This scenario provided Ruto with an unprecedented opportunity to kill two birds with one stone: build his profile among evangelicals and challenge Raila's commitment to the church.
It did not help Raila's cause that some statements he and his campaign members made could be misconstrued as attacks on the church.
While presiding over a book launch by Archbishop Emeritus Habbakuk Abong'o at the Church of Christ in Africa in Kisumu, Ida Odinga challenged the Kenya National Council of Churches to control the proliferation of churches.
"We want Kenyans to subscribe to religions that are officially registered and not those whose belief systems are commodified. It is also important that we organize training for all who dispense the word of God," Ida said.
Bishop Daniel Kabono, general secretary of the Association of Pentecostal and Evangelical Churches, said the church must decide whether to vote for their destruction or for the advancement of Christianity.
Bishop Kabono believes that some statements made by members of Azimio were alarming and rendered the churches impartial.
Addressing the Muslim community in Nairobi, Raila said Kenya was a secular nation and all religions were equal. He said a colonial ideology had placed Christianity above other religions.
"There is a colonial ideology in Kenya which has elevated Christianity above all other religions. This ideology still exists. My government will put an end to it. The Constitution says Kenya is a secular society and a God fearing nation and we must respect all religions so we said we will respect all religions.
But Bishop Kabono said the statement suggested the government could adopt a policy that would control the growth of Christianity.
He said evangelical Christians are doing Ruto good by supporting him out of self-preservation and out of the guidelines of the Bible which requires support from those with similar beliefs.
Deputy Jesus Christ
"The choice for us and other Christians then became between a practicing and proud Christian and another candidate who wanted to regulate small churches and prevent pastors from ministering without a degree," Kabono said. "This is how the church was forced to take a stand."
Ruto's Christianity has been used against him by those who believe he used Christianity to gain political capital.
"Jesus Christ has no deputy…stop pretending to be his deputy on earth, he belongs to all of us," Azimio la Umoja running mate Martha Karua told a rally in Kakamega .
Reuben Kigame, a gospel musician and presidential candidate, weighed in on the issue last week, saying the new administration was "exaggerating religion". It was an observation that former Chief Justice Willy Mutunga had also made.
"I think the Ruto administration overstates religion. As we acknowledge the hand of God to bring us this far, the Presidency must respect Article 27 of the Constitution," Kigame wrote on social media.
"At the inauguration, the evangelical wing of the church was overrepresented. It was useless. I don't know what the transition committee intended to prove to Kenya and the watching world.
Ruto has used this discontent to appeal to the evangelical church which is still feeling the effects of a moratorium on new church registration.
President Uhuru Kenyatta cracked down on church registration in 2014, and that ban remains in place.
At a town hall meeting hosted by the Evangelical Association of Kenya in May, Ruto said the moratorium should be the reason the church takes more interest in who rules the country.
"I know that we have had problems with the registration of churches. There is a moratorium. We have to discuss it. What is the nature of this moratorium, and for how many days? What are the reasons? Ruto asked.
"The church needs to come forward again and have a conversation with the government."
[Additional reporting by James Wanzala]