Global Leaders to Receive Presidential Awards at the 2022 Africa and Caribbean International Leadership Conference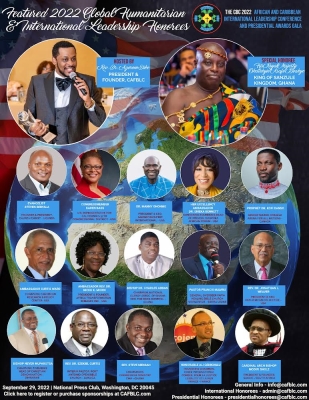 Tuesday, September 20, 2022
2022 Global Humanitarian and Leadership Laureates
Washington, DC (September 17, 2022) – The Caribbean and African Faith-Based Leadership Conference (CAFBLC) honor national and international leaders for their outstanding service to the global African Diaspora at 2022 African and Caribbean International Leadership Conference and Awards Gala on Thursday, September 29. This important event, organized in conjunction with the 51st Annual Legislative Conference of the United States Congressional Black Caucus, will take place at the National Press Club. This year's theme is:United in faith for social change".
Winners will receive awards including the Presidential Lifetime Achievement Award, signed by US President Joe Biden. The winners are renowned global leaders, volunteers, community development leaders, diplomats, elected officials, and business and spiritual leaders who, operating primarily from a religious perspective, have had a tremendously positive impact on major issues such as as religious liberty, civil rights, humanitarian concerns, social justice, economic development, and missionary partnerships.
Dr. Agorom Dike, President and CEO of the Caribbean and African Faith Based Leadership Conference, said "the agenda of the conference is to promote transformational leadership and economic development through faith-based partnerships" . He describes the awards gala as a way to champion the extraordinary work and volunteerism of recipients by honoring them and allowing them to speak at panels. Additionally, the event promotes learning, networking, partnerships and serves as a gateway for people who want to connect with African and Caribbean communities.
"We award the Global Humanitarian Leadership Award and certify the President's Lifetime Achievement Award to members of, among others, our community, and those who positively impact our constituency – the Diaspora," said the Dr. Dike. "This year we have a prestigious list of recipients who will receive their awards signed by Joseph R. Biden, Jr., President of the United States of America"
Among the top winners are: His Royal Majesty Okatekyie Asafo Boakye III, King of the Kingdom of Sanzule – in Western Ghana; Dr. Wayne AI Frederick, President of Howard University; Cardinal Modiri Patrick Shole, President and Founder of Saucic – South Africa; Pastor Frances Mambu, General Overseer of Faith Healing Bible Church in Sierra Leone; Congresswoman Karen Bass, United States House of Representatives – California; Ambassador Sonia Johnny, Senior Legal Advisor for the Organization of American States – Saint Lucia; Ghanaian Prophet Dr. Kofi Danso, General Supervisor of Miracle Arena for All Nations – Toronto, Canada; Dr. Manny Ohonme, Nigerian-American leader, President and CEO of Samaritan's Feet International; Rev. Dr. Jonathan L. Weaver, President & CEO PanAfrican Collective – USA; Ambassador Dr. Erieka Bennett, Founder and Head of Mission Diaspora African Forum-USA; Ambassador Curtis Ward, former Jamaican Ambassador to the United Nations and President of the Caribbean Research and Policy Center; Angeles Echols-Brown, Founder of Educating Young Minds, Curriculum and Online Learning Developer, and Author – California; Reverend Dr. Frederick D. Haynes III, social activist and senior pastor of Friendship-West Baptist Church – Dallas, TX.; and Ron Busby Sr., President and CEO of U.S. Black Chamber, Inc. Other Lifetime Presidential Honorees will be listed on our website at cafblc.com
Other distinguished winners include:
Evangelist Steven Sebyala, Founder and President of Church of Christ, Uganda
Hazel Trice Edney, President and CEO of Trice Edney Communications, USA
Sierra Leonean, Rev. Dr. David Vandy, international media broadcaster for Voice of America.
Reverend Steve Mensah, Charismatic Evangelical Ministry CMA, Accra, Ghana.
Bishop Dr. Never Muparutsa President of Zimbabwe Christian Denominations
Bob Marshall Sr., Vice Chairman of Wells Fargo
Dr. Ambassador Hugues Sanon, Corp Special Envoy, Global Relations to the UN, Global Ambassador for FDFW
Honorable Ali Gedikoglu, Founder and President of COJEP International Council for Justice, Equality and Peace France
Pastor Paul Nya, General Supervisor of the Chapel of Praise in Togo, West Africa
Dr. Felicia Bassey-Akamune, conference co-chair and CEO of Milestone Medical Outreach, urges people to join the conference to make a difference.
"Together, we can strategize, bring hope, and change lives through access to quality health care, outreach, and education for underserved residents in the United States, Africa and elsewhere in the world," she said.
The September 29 program includes:
8:00 a.m. to 3:00 p.m. International Leadership Conference
5:15 p.m. to 6:00 p.m. Press conference
6:00 p.m. to 7:00 p.m. – Red Carpet VIP Networking Reception
7:15 p.m. to 11:45 p.m. International Leadership Awards Gala
Saturday, October 1 – From 7:30 a.m. to 10:00 a.m., delegates are invited to join the CBC Prayer Breakfast and Healing Day.
Click on here for more information and to register for the conference. For more information on the International Conference on African and Caribbean Leadership, visit www.cafblc.com. To schedule an interview with CAFBLC founder Dr. Agorom Dike, contact Ivan Thomas at [email protected] or 202.904.4790.
####