"I have always believed that disability was part of God's good design"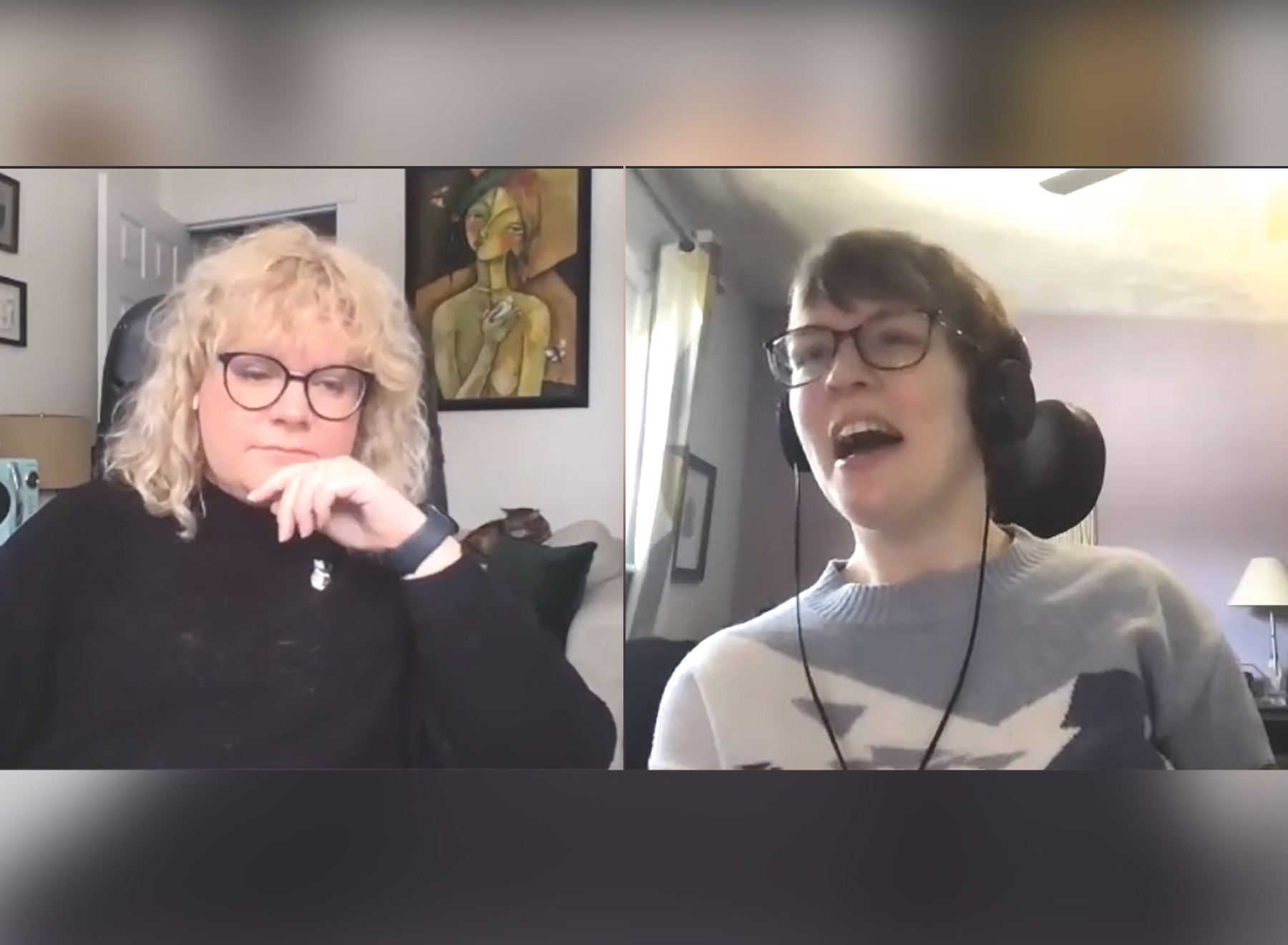 In 2021, theologians Rev. Miriam Spies and Amy Panton started The Mad and Crip Theology Podcast, available on Apple Podcasts and Spotify. They spoke to Meagan Gillmore about the project and how they find motivation in their own experiences of faith and disability.
On the inspiration for the podcast:
Amy Panton: He comes out of Canadian Journal of Theology, Mental Health and Disability. Once we launched the journal, we thought it would be a good opportunity to bring our editors together. We wanted to create a space where it was more normal to talk about these things.
Myriam Spies: We wanted to bring theology into the conversation about disability and mental health. There is a harmful theology there. We want to encourage theology that helps bring the mad and the crippled into the church.
On the terms "mad" and "crip":
PA: Many people would consider 'crazy' to be used as an insult, such as 'This person is completely crazy'. We are trying to reverse some of this ableism. Mental, emotional and spiritual distress is something everyone experiences.
MRS: As a noun, "crip" functions as a name, an identity, a cover of something that has been shamed. It's a way of reclaiming it and making it a positive identity for us. As a verb, it means to bend things to make them work for our minds and bodies.
---
Interested in more stories like this? To subscribe to Wide view's weekly newsletter.
---
On their personal journeys of disability and faith:
MRS: I was born with cerebral palsy; I have been disabled all my life. I was born in the church. Both of my parents are ordained ministers in the United Church, and I was ordained in 2015. When ministry opportunities did not come my way due to my disability, I undertook my doctoral work.
I have always believed that we are all children of God. I have always believed that disability was part of God's good design.
PA: I ride both the insane and crippled sides. My migraines kick my ass more than I care to admit. I was on the side of the evangelical church. Mental health was not something we talked about. I'm looking for where I want to land in the church. I found that doing this work at the Toronto School of Theology really healed me.
On their target audience for the podcast:
PA: We are not entirely sure sometimes. It's a lot of people who find us through our friends and social networks.
MRS: We hope churches and leaders will listen. We hope this podcast is a way for people to hear their voices resonate.
---
Learn more about Broadview:
---
On how church leaders can better serve members with disabilities in their congregations:
PA: Read our journal and listen to our podcast!
MRS: Be intentional when leading insane and crippled people, if and when they want to. Engage in relationships.
On their message to people with disabilities who struggle with their faith or community of faith:
PA: I just want them to know that God loves them and knows and understands their pain. Just know that God is there. God has not forgotten you.
MRS: There is a community of handicapped, crazy, and crippled people trying to be in the church. And they are not alone.
On what they learned about God while working on this podcast:
PA: I learned so much about the gentleness and sharing of God's pain.
MRS: For me, it's a reminder that God works creatively in relationships. It is easier to discern the voice of God in the community.
This interview has been edited for length and clarity.
***
Meagan Gillmore is a freelance journalist in Ottawa and an MA student in journalism at Carleton University.
This interview first appeared in Wide view's June 2022 issue entitled "Disability is part of God's good plan".
---
We hope you found this wide view engaging article.
Our team works hard to bring you more independent, award-winning journalism. But wide view is a non-profit organization and times are tough for magazines. Thank you for considering supporting our work. There are several ways to do this:
Subscribe to our magazine and you'll get smart, timely stories and insights delivered to your doorstep 8 times a year.
To give to our Friends Fund.
Give the gift of wide view to someone special in your life and make a difference!
Thank you for being such wonderful readers.
Jocelyn Bell
Editor/Editor