Latin evangelical leader sees more Latinos leaving the Democratic Party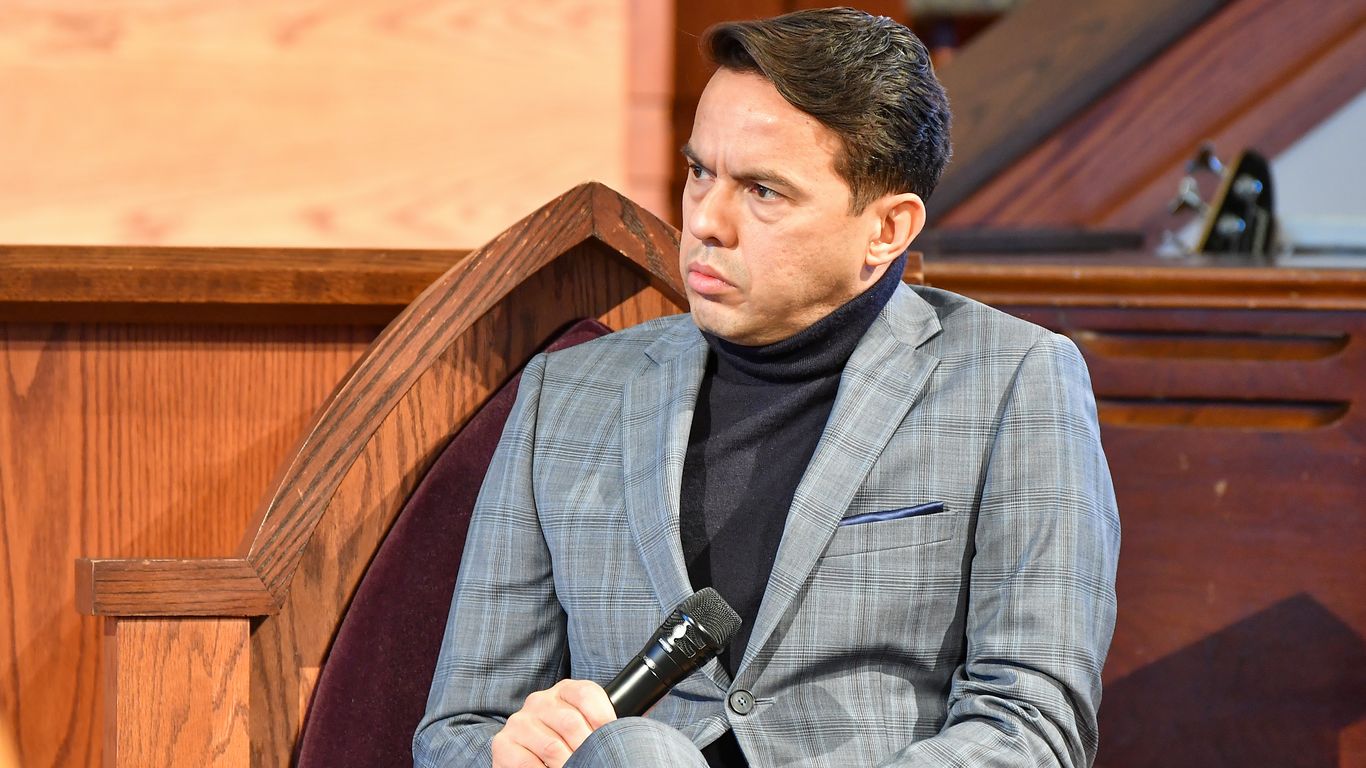 The head of the world's largest Hispanic evangelical organization told Axios he thinks American Latinos are drifting away from the Democratic Party as more of them embrace evangelical churches and conservative beliefs.
Why is this important: Latino evangelicals are among the fastest growing segments within an increasingly powerful electoral bloc.
The big picture: Reverend Samuel Rodriguez Jr. leads the National Hispanic Christian Leadership Conference, a group that represents more than 42,000 churches nationwide.
The organization has lobbied for immigration reform, and Rodriguez has advised leaders of both political parties, including former Presidents George W. Bush and Barack Obama.
Many of the group's member churches cater to Spanish-speaking immigrants from Central America, while others serve Latinos who have left the Catholic Church.
What he says : Rodriguez said recent elections, including Republican Mayra Flores' victory last week in South Texas and former President Trump's gains with Latinos in 2020, show seismic political change.
"The Hispanic community is not what everyone thought it would be: this incredible constituency that is an integral part of the Democratic Party."
A combination of Democrats taking Latino voters for granted, Republicans targeting Latinos in local races and a rise in the number of Latino evangelicals are pushing Hispanics into new political territory, he said..
That's what the experts say and what the election results have shown over the past two years. Polls also show the Democratic Party losing ground to Latinos, although this is not a mass exodus.
Yes, but: The surge in Hispanic evangelicals doesn't mean most Latinos will automatically jump from supporting Democrats to supporting Republicans, Rodriguez said.
On the economy: Inflation, rising interest rates, high gasoline prices and the COVID-19 lockdown have created more doubts among Latinos about their integration into the U.S. economy, Rodriguez said.
On abortion: A Pew Research Center survey released last week showed that 40% of Latinos said abortion should be illegal in most or all cases – the highest among all ethnic groups.
"We are the most pro-life community in America… The way Democrats talk about this issue is alienating some Latinos."
On LGBTQ+ rights: Rodriguez said evangelicals are very tolerant but don't believe teachers should talk about sex.
Reality check: Educators say discussions of LGBTQ+ issues in schools are not about sex, but about gender and love. Some states now prohibit teachers from mentioning that someone is gay.
On critical race theory: Rodriguez said Latino evangelicals might have trouble with some of the premises of critical race theory, but believe some Republican-led states have gone too far in banning discussions of civil rights in schools.
"We are both Billy Graham and Dr. King. We are vertical and horizontal Christians. We are not married to the donkey or the elephant. We are married to the lamb."
The bottom line: Extremism in both parties has left moderate Latinos, many evangelicals, politically homeless, Rodríguez said.
He added that Democrats are losing ground, but there's no guarantee Republicans will win over Latinos in the long run if candidates don't "watch their rhetoric."
Subscribe to Axios Latino and get more important news about Latinos and Latin America, delivered straight to your inbox on Tuesdays and Thursdays.