The home as missionary responsibility, evangelical focus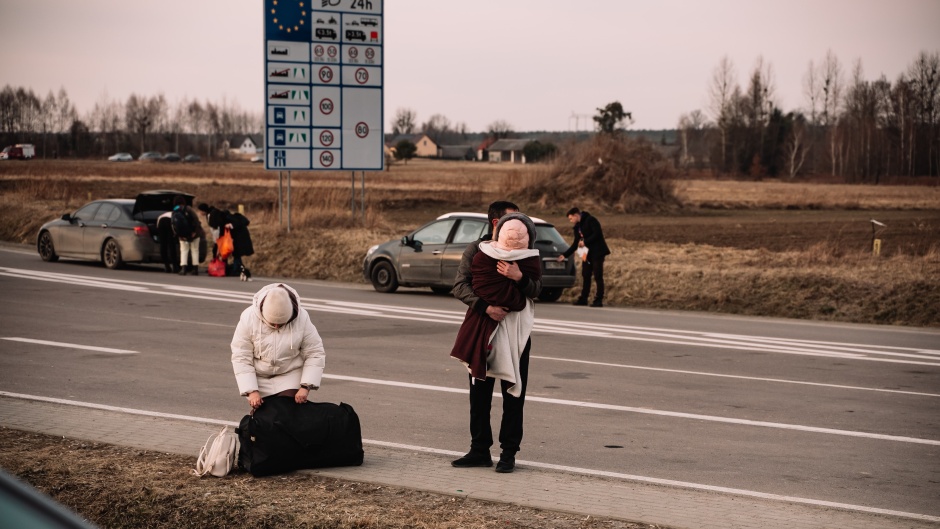 Millions of refugees flood our societies and consequently knock on the door of Christian churches. At present, due to the war in Ukraine, they come daily, bagged for help and assistance, accommodation and food.
Most churches in Germany, where I live, did their best showing as much hospitality as possible. But slowly most of them get tired of daily stress and endless requests from their guests.
"I thought I was a very patient and friendly and surely hospitable person," a friend of mine recently confessed, "but the refugees in my house have taken all their privacy, the list of their demands is endless, and often I cannot satisfy their I'm tired and a few days ago I asked our city administration to move my guests elsewhere.
Voices like this are getting loud even in the most foreign-friendly churches.
Christians want to help, but the task becomes too difficult to accomplish, it seems. Are there alternatives? Is there a way to welcome refugees and see them as God's blessing of the day? Or are they by definition a long-term burden?
And what tires us Christians in our mission to refugees and how can these factors be overcome?
Welcoming the homeless, refugees and the needy is by definition a Christian duty.
Jesus clearly identifies with the poor, the persecuted, the hungry and the thirsty and asks his disciples to welcome these people into their homes. And where they do, they personally offered him shelter (Matt. 25, 34-45).
According to the Master we Christians are obliged to take care of the refugees who come to us. They are a vital part of our missionary task. To neglect them is to neglect the Lord Himself.
Christians, who have the privilege of owning a home, having a secure income and having a comfortable life must understand that all of this is given to them by the Lord, and it is He who finally decides what our goods are used for.
Joshua's famous words "I and my house will serve the Lord" (Joshua 24:15) describe the right attitude of the faithful.
How is it then that we Christians feel overwhelmed by those we are supposed to care for?
I believe the main reason for this is the fact that the vast majority of Christians do not understand the very term missionary task and experience the challenge as a growing burden.
The truth is all Christians are called to mission. They are saved by grace for the good works which God has commanded them (Eph. 2:10). No one can examine themselves from the mission.
Everyone has received on the day of new birth special gifts of the Spirit for the special ministries of the Lord and wherever they begin to do what they were called to do, they will experience the energy, the power of God.
As Paul writes in 1Cor. 12:4-6 (NIV): "There are different kinds of gifts, but the same Spirit distributes them. There are different kinds of service, but the same Lord. There are different kinds of work, but in each he same God is at work in them and in everyone.
Not knowing the gifts given by the Spirit, not knowing which gifts correspond to which ministry or simple inactivity in the areas of our vocation, Christians will soon experience an existential chance of energy. In other words, they will feel tired and unable to invest themselves for the good of others.
In terms of refugee ministries, Christians often help out of general human need and for philanthropic motives, instead of doing what needs to be done by their own missionary vocation. Humanitarianism, however great, has unusual short legs.
The missionary task of Christians is completely centered on God. Jesus said, "As my father sent me, so I send you" (John 20:21). And he said, "The Spirit of the Lord is upon me, because he has anointed me to bring good news to the poor." He sent me to proclaim freedom for prisoners and restoration of sight for the blind,
to free the oppressed" (Luke 4:18).
His gospel was a gospel of the kingdom (Matthew 4:23). He cared for the needyhealed the sick and changed their social status (for example in the case of the demonically possessed and infected with leprosy).
And the needythe healed and liberated followed him accordingly and became his disciples and engaged in his kingdom-building mission.
Nowhere do we see Jesus helping people for the sake of helping, instead He transformed their lives so they could help themselves and others. And nowhere does he act by his own motivation. It is the Spirit of God upon him that determines what he does and when.
Even his own mother, Mary, couldn't force him to fulfill a need at a wedding celebration that ran out of wine in Kana (John 2). He obeyed God, kept God's purpose for his mission in mind, and ultimately won the victory. about death and the devil. And like Him, we are also sent.
For our Christian missionary responsibility, this means at least four main decisions.
As disciples of Jesus, we will never stick to help for help only. Jesus is interested in the transformation of people and their living conditions. So let's go! Wherever Christians just help, they fail and it won't take long and their desire to help will tire them. Mission in the name of God rests on God's blessing and where His blessing is lacking, human energy dries up.

As disciples of Jesus, we will do what the spirit sends us to do. And the Spirit of God has given different gifts to particular members of the Church. There is no general commission to look after the needy. Each member will exorcise their special gift of benevolence. One will be able to nourish, another to comfort, the third to find a place to live and yet another will help to reorient the refugee in the new condition. Proper care requires the whole church to be lasting and transformative. Lone helpers are destined to become lone rangers and frustration will soon take over.

As disciples of Jesus, we will always be interested in leading those we help to a personal faith, make disciples of them and incorporate them into the church (Mt. 28:19). This does not mean that the existential need of a refugee will be a welcome opportunity to evangelize. Christians help wherever help is needed, but they do so as evangelists, we bear witness to God's love and salvation. And seeing refugees find peace in Christ is the greatest reward a Christian can expect.

Christian Mission Aims for Discipleship (Matthew 28:19). He helps the needy, brings them to know Jesus as Lord and teaches them to become disciples of Jesus, able to witness to others. Wherever this happens to refugees, they become potential missionaries for their own people and a Diaspora mission cycle begins to unfold.
The four basic principles, applied in a local church, will encourage a strategic approach to mission, which will soon remove any potential frustration and empower refugee missionaries.
Refugees build their own communities in host countries. These communities are called diasporas. Often this also leads to the creation of diaspora churcheswhich, in turn can become powerful agents of mission and evangelization in the countries of origin.
Churches with a global mission perspective will therefore consciously invest in refugee evangelism and diaspora church planting.
Ideally, this is done in what is called multicultural churches. Such churches are more than friendly to foreigners. They invite strangers to join the church and consider their otherness as a very special giftan appropriate contribution to the fullness of the kingdom of God on Earth.
In foreign-friendly churches, Christians serve refugees; in multicultural congregations, they serve with refugees. One is mission for the people, the other is mission with the people.
From the first meeting, the church appeals to the gifts and dignity of its guests and uses their potential for the good of refugees and natives alike.
Ukrainian refugee Natasha, a well-educated Christian counselor and psychologist, began two weeks after her arrival in Germany counseling her very traumatized fellow Ukrainians, and the local German church provided space and financial support for the ministry.
Indeed, the Germans invited her to do so. Soon Natasha was paired with a German counselor and together they extended their service far beyond the Ukrainian refugee community.
Natasha invited her clients to the church, which offered them various services and, whenever possible, invited Ukrainians to join them. Many of them turned out to be very capable, and soon a number of creative projects were being carried out by the church and their Ukrainian friends.
Just a month after Natasha began her trauma therapy, Ukrainians gathered for their first worship service in the German congregation.
They proudly claim to be one congregation, as the German church is multicultural and alongside German and Ukrainian services, other groups of foreigners enjoy both services in their native language and joint projects for the benefit of their neighbors. Together, they serve their families back in their country of origin.
The the work of the refugees in this church is intensive and consumes a lot of energy church members, but there is growing excitement among them.
"I have never been closer to the Lord spiritually," said one of their members. It is as if the Holy Spirit fills me day by day with an additional portion of his strength. Yes, I'm also tired here and there, but never tired. My new brothers and sisters and colleagues in the kingdom of God make me strong. I wish all Christians would understand this.
This example proves refugee work should not de-energize Christians, the opposite is true, done correctly it will lead to a deeper experience and generate more energy.
Johannes Reimerdirector of public engagement for the World Evangelical Alliance.