The Spanish Bible Society inaugurates the "House of the Bible", Evangelical Focus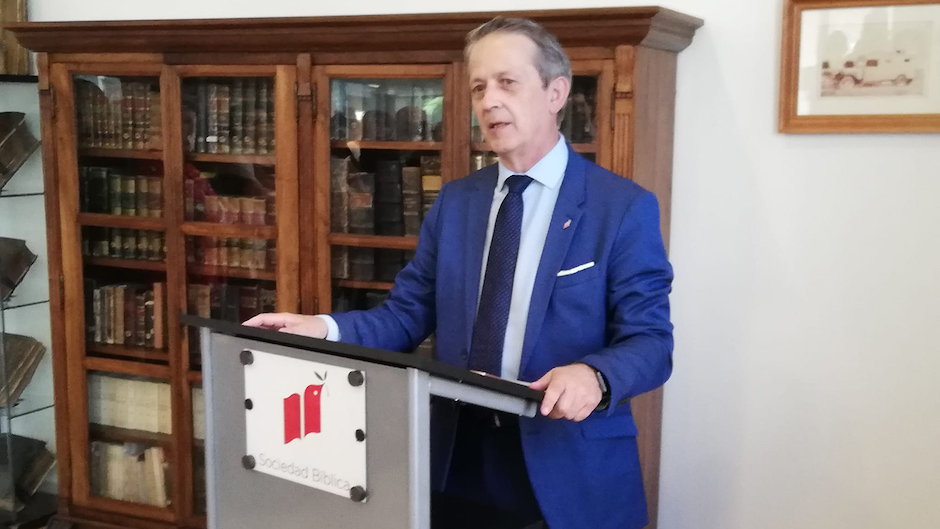 The President and General Manager of the Spanish Bible Society (SBE), Manuel Álvarez and Luis Fajardo, recently inaugurated their new headquarters, the "House of the Bible" in Madrid.
Members of the SBE Board of Directors, government officials, pastors and friends of the organization from all over the country participated the event.
"We want you to see this place as your home, home to all of you who love the Biblesaid general manager Luis Fajardo.
Pastor Julio García Celorio, member of the Permanent Commission of the Federation of Evangelical Religious Entities of Spain (FEREDE), give a brief helloreplacing Executive Secretary Carolina Bueno, who was unable to attend due to health issues.
In addition, the Deputy Director General for Religious Freedom of the Ministry of the Presidency, Parliamentary Relations and Democratic Memory of the Spanish governmentMercedes Murillo, congratulated the SBE "for this new space that you have achieved with great effort".
"I'm sure it will keep you going and achieve even better your mission to translate and distribute the Biblelaunched by Jorge Borrow in 1936," added Murillo.
A photograph of the pastor and peddler Adolfo Araújo García, first president of the SBE, presides over the room of the museum that bears his name. / Actualidad Evangelical..
The opening ceremony took place in the hall of the Adolfo Araújo Museum, a space dedicated to the memory of the first president of the Spanish Bible Society, pastor and colporteur Adolfo Araújo García (Santander, 1878 – Madrid, 1956).
"A space steeped in history"Fajardo said, pointing to the photograph of Araújo that presides over the room, as well as the shelves full of Bibles and ancient texts that decorate its walls.
Finally, two members of the Board of Directors commended the new seat to the Lord in prayer, followed by a cocktail and an informal moment of fellowship and fellowship.
All participants received a gift bag with gospels, biblical texts and other SBE materials.
Posted in: Gospel focus – culture
– The Spanish Bible Society inaugurates the "House of the Bible"