Understanding Harper's Gospel Mission | The Tyee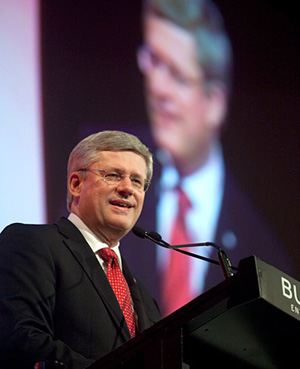 Any Canadian listening to the news these days might well conclude that Republican extremists or an associated evangelical group have occupied Ottawa.
And they would be more right than Job, I believe.
Almost every day, more and more evidence is surfacing that the government of Canada is being guided by tribalists opposed to scientific reason in favor of biblical fundamentalism – or what some call "evangelical religious skepticism".
First, Canada withdrew from the Kyoto accord without any rational or feasible national plan to address carbon pollution.
Then comes the hysterical and unprecedented letter from the Minister of Natural Resources, Joe Oliver, an investment banker. He called local environmentalists and First Nations foreign radicals because they dared to question the economic and environmental impacts of a Chinese-funded pipeline.
At the same time, federal security agents said that Greenpeace, a civilian organization originally created by Canadian journalists, was a "multidisciplinary extremist group."
After quietly gutting the Navigable Waters Protection Act, the Harper government is now proposing to dismantle the Canadian Environmental Assessment Act and the Fisheries Act, Canada's strongest and last remaining water protection.
While government and industry public relations fabricate lies about Canada's environmental record, Scott Vaughan, Federal Commissioner for the Environment in the Office of the Auditor General, reports that there are only 12 water quality monitoring stations for Canada's 3,000 First Nations communities and only one federal water monitoring station downstream of the oil sands. Until last year, it was only calibrated to detect pollution from pulp mills.
The data-antagonistic Harper government has muzzled federal scientists so much that an editorial in the prestigious Nature magazine demanded that it was "time for the Canadian government to release its scientists".
And now conservative senators threaten to revoke the charitable status of any group that dares to criticize the government's environmental performance or its fossil fuel subsidies.
Where does the government's extreme animosity toward journalists, environmental groups, First Nations, and science come from (and I've only listed a partial list of victims here)? The timing demands that we take a close look at Stephen Harper's evangelical beliefs.
Harper's Creed
Unknown to most Canadians, the Prime Minister belongs to the Christian and Missionary Alliance, an evangelical Protestant church with two million members. Alberta, an oil state, is one of its great strongholds on the continent. The church believes that the free market is divinely inspired and that unbelievers are "lost".
Now, let's be clear: I am a Christian and a social conservative and a lifelong advocate for rural landowners and an unabashed environmentalist. I have spent many enjoyable hours in various evangelical churches and fundamentalist communities. Faith is not the concern here.
But transparency and full disclosure have become the issue of paramount importance. To date, Harper has refused to answer questions from the media about her beliefs or the groups that inform them. If he were answering questions from the media about his minority belief (and less than 10% of Canadians would call themselves evangelicals), he would have to admit that he openly sympathizes with, even endorses, so-called "evangelical climate skepticism."
No one knows this pro-fossil fuel ideology better than Dr. David Gushee, a prominent professor of Christian ethics at Mercer University and Holocaust scholar. The evangelical Christian is also one of the drafters of the 2006 law Evangelical Climate Initiative. He said climate change is a serious threat to creation that demands an ethical Christian response.
But it's not the evangelical wing that Harper listens to. Given his government's pointed attacks on environmentalists and science of all kinds, Harper would appear to be taking his advice from the Cornish Alliance, a coalition of right-wing academics, economists and evangelicals. The Alliance questions mainstream science, doubts climate change, views the environmentalist as "indigenous evil", defends fossil fuels and supports libertarian economics.
"Resist the Green Dragon"
A recent statement on climate change by the Cornish Alliance denies that carbon dioxide "is a pollutant" and adds that "there is no convincing scientific evidence that the human contribution to greenhouse gases is causing dangerous global warming ". In addition, any reduction in emissions "would significantly increase the price of energy and harm economies".
A separate statement from Cornwall describe environmental regulations as an obstacle to the will of God:
"We aspire to a world in which freedom as a condition of moral action is preferred to government-initiated environmental stewardship as a means to achieve common goals."
A book published by the Alliance entitled Resist the Green Dragon: Dominion not Death even describes environmental groups as "one of the greatest threats to society and the church today".
A passage says that "The Green Dragon must die… [There] there is no excuse to be confused by the noxious green smells and doctrines emanating from the filthy beast…"
The Cornish Alliance has also believes that renewable forms of energy such as wind and solar are sufficient for poor or rural populations only until nuclear and fossil facilities "meet the needs of significant and sustained economic development".
Beware of the "New Hypocrite"
In a 2010 interview, Gushee, a brilliant and passionate Christian, detailed the basic tenets of "evangelical climate skepticism". He said there were seven main points and argued that they had poisoned the Republican Party. These principles not only explain the startling developments in Canada, but should make the hair on the neck of any sensible citizen, regardless of religion:
1. Disdain for the environmental movement
2. Distrust of mainstream science in general
3. Distrust of mainstream media
4. Loyalty to the party
5. Libertarian economics as the will of God (God opposes government regulation or taxation
6. Misunderstanding of divine sovereignty (God will not allow us to ruin creation)
7. Unreconstructed Dominion Theology (God Calls Humans to Subdue and Rule Creation)
At the end of the interview, Gushee summed up the purpose of this new evangelical republicanism: "God is sovereign over creation and therefore humans cannot cause permanent harm…God established government for limited and the government should not interfere much in the functioning of a free market economy… The media exaggerates concerns about climate change… The environmental movement is secular/pagan and has always been a threat to American freedoms.. .
"Nice view of the world, huh? I disagree with just about every word. »
But this Republican religious tribalism is now Ottawa's worldview.
Readers looking for an in-depth analysis of Harper and the rise of libertarian religious tribalism in Canada should turn to Marci McDonald's The Armageddon Factor.
Another touchstone could be GK Chesterton, a radical Catholic, who regularly questioned the wealth and power of big government and corporations decades ago.
He would have advised us to get to the bottom of this to find out if our Prime Minister pretends to be just a dumb politician while pursuing an extreme Republican evangelical agenda.
"The old hypocrite was a man whose aims were truly worldly and practical, while he claimed they were religious," the radical Catholic once observed. "The new hypocrite is one whose goals are truly religious, while he claims they are worldly and practical."
Canada needs to have an open conversation about the virtues of democracy versus theocracy.
[Tags: Politics.]